VideoNuze: FreeWheel Council's White Paper Advocates for Premium Video's Ad Effectiveness
FreeWheel Council's White Paper Advocates for Premium Video's Ad Effectiveness
April 20, 2016, by Will Richmond, VideoNuze
The FreeWheel Council for Premium Video, an advocacy group of 30 programmers, operators and digital publishers, has released its first white paper, spelling out the case for premium video's quality difference, explaining two specific impediments to its future growth and making recommendations for unlocking premium video's full value.
From a quality perspective, the paper notes that in addition to premium video delivering valuable audiences at scale in a transparent context, it also delivers higher viewability vs. all video, according to a study FreeWheel conducted with Moat. That study found that the two-second video in view rate for premium video from a FreeWheel set of publishers was 76.8% (vs. 62.7% for all Moat video) and the five-second in view rate was 72% for FreeWheel's set (vs. 57% for all video).
In addition, the Audible and Visible on Complete rate (a Moat proprietary metric) for FreeWheel's set was 69.2% vs. 31.8% for all video. Moat considers the "AVOC" metric a proxy for engagement because it measures instances where the ad both played through to completion and was visible and audible on completion (in other words it was watched and heard to the end). Clearly the value of an ad watched this way is much higher than for those that are partially or fully avoided.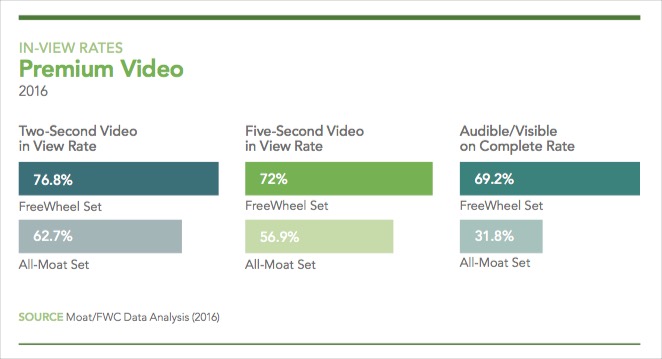 Despite this data, the paper identified two impediments to growth of premium video monetization. The first is that connected TVs and mobile (where a majority of video is now viewed according to FreeWheel data) are not yet fully measurable, with demographics not always verified and viewability/fraud not fully measured. These factors suppress advertisers' interest.
The second impediment is executional – all the challenges related to actually running campaigns. The paper specifically calls out multiple tags that are attached to campaigns that create complexity in the workflow and diminish the viewer's experience.
Moving forward, the paper recommends the industry gaining consensus around measurement standards and focusing on the value of premium video instead of simple proof of delivery. Importantly, the paper advocates for avoiding getting mired in distractions like fraud and viewability that plague non-premium inventory but aren't relevant for premium video.
The paper can be downloaded here.